Home > About Us > Our Gurus
Swami Tapovan Maharaj
(1889-1957)
Swami Tapovanam was a consummate Vedantin, a strict teacher, poet and a sage of great wisdom and tranquility. He was a pristine glacier of Self-knowledge, a saint of the highest order. That Truth, which Swami Tapovanam realised and indicated in all his teachings is beyond words, as much as he himself was. Swami Chinmayananda said of his Guru, "He was a God without temple, a Veda without language"
Swami Chinmayanandana Gurudev
(1916-1993)
The life of Swami Chinmayananda was one of extraordinary spiritual strength, immeasurable love and tireless service. In less than half a century, he has left behind a worldwide organisation, hundreds of institutions, and millions of devotees. This was all aimed at a single theme, discovering the Eternal within.
Swami Chinmayananda was born on May 8th, 1916 as Balakrishna Menon (Balan) in Ernakulam, Kerala. His family was very devout in their religious life and had regular contact with holy men. This influence moulded Balan's mental and moral make-up preparing him for the mission of his life ahead. Balan excelled with his education graduating in Science, Political Science, Law and English Literature at Lucknow University. A man of strong ideas and idealism he entered the field of journalism where he felt he could influence political, economic and social reform in India. At this time he met Swami Sivananda at Rishikesh and became very interested in the spiritual path. Here he found the answers that he was seeking.
Balakrishna Menon took monkhood from Swami Sivananda to become Swami Chinmayananda - the one who is saturated in Bliss and Consciousness. Swami Sivananda saw the potential in Swami Chinmayananda and sent him to study under the greatest Teacher in the Himalayas - Swami Tapovan Maharaj. 

 Swami Chinmayananda studied for 12 years under Swami Tapovan's guidance, leading a very austere and rigorous life. Then he felt a deep inner urge to share his knowledge and wisdom with the mass of humanity. He descended to the plains and held his first yagna in Pune to a small group of three people. This humble beginning rapidly expanded to more than 500 series of lectures given to audiences numbering thousands.
During his 40 years of traveling and teaching, Gurudev opened numerous centres and centres worldwide, he also built many schools, hospitals, nursing homes and clinics. As well as reinvigorating India's rich cultural heritage, Swami Chinmayananda made Vedanta accessible to everybody regardless of age, nationality, or religious background. On 3 August 1993, in San Diego, USA, Swami Chinmayananda attained Mahasamadhi. He worked tirelessly to the very last moment and created an international spiritual revolution.
Swami Tejomayananda Guruji
Swami Tejomayananda is the former Head of Chinmaya Mission Worldwide, a position he held since 1993 after Swami Chinmayananda attained Mahasamadhi. If Swami Chinmayananda served the cause of Vedanta with his service, knowledge and pioneering qualities, Swami Tejomayananda – fondly addressed as Guruji – completed that with his natural attitude of devotion. This is richly and abundantly evident in his talks, his singing, and his demeanour.
But the gentleness of devotion arrived riding on the back of an intense education in physics, going up to a Master's degree. Born, Sudhakar Kaitwade to a Maharashtrian family in Madhya Pradesh, this physicist had a close encounter that changed the velocity, direction and path of his life.
A month – just a month – before he donned the academic mortarboard and gown of post-graduation in Physics to pursue a career in teaching, life made a small change. Teach he would, but from the Vyasapeetham, it suggested. For just 30 days before he received his postgraduate degree, he was to espy a banner announcing Swami Chinmayananda's talks on chapter three of the Bhagavad-gita. Chapter three that expounds the obligation to performance of duty was the prod that Swami Tejomayananda would use later to guide everyone to examine their duties and dedicate themselves to a disciplined way. And it was this chapter three that the teacher in Swami Tejomayananda heard and was prompted to hear more. A few more talks later, Sudhakar recalled his calling and sought his mother's permission to join the Chinmaya Mission's residential Vedanta course at Sandeepany Sadhanalaya in Mumbai. The road had been found, the feet had been placed, the Guru had cast his benign look upon him… the anointment awaited him… Course completed and Sudhakar adopted the monastic order at the holy hands of Swami Chinmayananda, in 1975. Teaching was now formally his vocation, avowed by the Guru himself, who blessed him with the identity Brahmachari Vivek Chaitanya. There was no stopping him. The road ahead was his to walk on, to teach, to guide and to extol. Vivek Chaitanya served at the Chinmaya Mission Centres in Bhopal, Kanpur, and Sidhbari. Not too soon after this, he was assigned to conduct the first residential Vedanta course in Hindi at 'Sandeepany Himalayas' in Sidhbari. Eight years later, in October 1983, on the auspicious day of 21 October when the moon was full and bright in complete glory, Swami Chinmayananda initiated Vivek Chaitanya into sannyaasa, bestowing upon him the name, Swami Tejomayananda. Naturally. The brightness of the full moon glowed around him, but also shone his gentle manner, his amiable, loving nature, his calmness of spirit and his ever smiling face that beamed a hi-powered smile which touched every heart for miles…assuring the people the continuity of the Guru's love wherever he went. Great qualities for a teacher, for, if a teacher is not approachable, knowledge does not even transmit! Such a teacher he was that naturally his proficiency in teaching had to lead to more teaching. He was then appointed as Acharya of the Sandeepany Sadhanalaya ashram in Mumbai, where he taught two consecutive residential Vedanta courses in English. Not just his proficiency in English, Hindi, Marathi and Sanskrit, it was also his agility with phrases, with idioms, and his, by now, renowned sense of humour that has kept student communities and audiences alert, attentive and completely mesmerised by his talks and lectures. Swami Tejomayananda drew students to himself as a magnet does iron filings. A good teacher, he possessed the rare quality of right expression. And this led to his next posting to Chinmaya Mission's U.S. Centre in San Jose, California. Some events happen to enable other events, or as in this case, are part of a continuum. Swami Chinmayananda attained Mahasamadhi in 1993, in San Diego, California. One can say the baton had passed – unknown to anyone. For, shortly after that, Swami Tejomayananda was appointed Head of Chinmaya Mission Worldwide.
Two decades have gone by, and one can see how seamless the transition has been. Swami Chinmayananda's vision, mission and drive have been as if passed on with the mantle and every dream is fulfilled with the same organisational zeal. The number Chinmaya Mission centres have substantially increased. In fact, they have almost doubled. New projects have been envisioned, enabled and executed effortlessly. Notable amongst these are:
• Chinmaya International Residential School in Coimbatore,
• Chinmaya Centre of World Understanding in New Delhi,
• Chinmaya International Foundation near Cochin,
• Chinmaya Heritage Centre in Chennai,
• Expansion of the Chinmaya Mission Hospital in Bengaluru and
• Chinmaya Vibhooti Vision Centre near Pune
• Upanishad Ganga tele-serial
• Planning for Swami Chinmayananda's Birth Centenary Celebrations in 2015-2016
None of these are mean in stretch or vision, each take the Chinmaya banner wider and further, yet with the thrust on broadening and advancing the vision of Vedanta. Add to these the courses Swami Tejomayananda has added to the study and spread of Vedanta through postal and online lessons in:
• Sanskrit
• Bhagavad-gita
• Vedic Maths
In overseeing the Mission's global activities and projects, Swami Tejomayananda's tours around the world are extensive and continuous. Throughout his travels, he conducts Jnana Yajnas (3-7 day Vedanta lecture series) in different cities and various countries every week.
That he has been able to win the love, devotion and dedication of the ever-growing Mission following is ascribed primarily to his continued love and devotion to his Guru, to Vedanta and to the Mission, and his loving manner, his phenomenal ability to continue relationships, his intellectual clarity, joyful wit, and open availability. That he has been able to carry the old and the young with him on the wings of Vedanta is ascribed to his devotional heart, his perfect ability to relate to all ages, all situations, all cultures and the consistency of the messages he sends through his talks and teachings.
Add to this, his remarkable foresight in endorsing and promoting technology to foster the Mission's growth and progress, has earned him inter-generational appeal and endeared him to millions across the globe.
The physicist, who once hoped to be a teacher, has stunned members and devotees alike with his fluency in Hindi, Marathi, English and Sanskrit. This also means he is aware of their resident cultures and their idiomatic expressions enter his talks and writings with ease and élan. The devotional aspect of his learnings is deeply etched in his innumerable musical renditions – some of which he has composed himself, making him an extremely inspirational singer and composer. This quality enters his discourses with inimitable ease, making his talks exquisite and enjoyable. As a laudable devotional singer, he has recorded several albums with original music and lyrics.
Swami Tejomayananda's talks, written commentaries, and original music, poetry and text compositions exude lofty spiritual insights, incisive Vedantic scholarship and universal harmony. His words are memorable and his points incisively reach home.
His original Vedantic texts include Bhakti Sudha, Jnana Sarah, Manah Shodhanam, Dhyanasvarupam and Jivanasutrani. His acclaimed commentaries include Kapila Gita, Yoga Vasistha Sara Sangraha, Svetasvatara Upanishad, Adi Sankaracharya's Drg-Drshya Viveka, and Ramana Maharshi's Upadesha Sara, He has also translated into Hindi Swami Chinmayananda's English commentaries on Shrimad Bhagavad-gita and the Upanishads. His book Hindu Culture: an Introduction has been adopted as an academic text by some American schools. Another popular book, Graceful Aging has been incorporated as a text into a Chinmaya Mission course for senior citizens. His profound, poignant and pictorial talks on Sant Tulsidasa's Ramacharitamanasa and Veda Vyasa's Shrimad Bhagavatam are world-renowned, highlighting his spiritual wisdom and masterful storytelling.
Swami Swaroopananda
Head – Chinmaya Mission Worldwide
In an era rife with scepticism and confusion about matters spiritual, Swami Swaroopananda is a rare voice that blends authenticity with accessibility; theory with self- practice; logic with heart.
Formerly the Regional Head of Chinmaya Mission Australia, United Kingdom, Middle East, Africa and Far East, and presently Chairman of the Chinmaya Vishwavidyapeeth Trust (University for Sanskrit and Indic Traditions) and Director of the Chinmaya International Residential School in Coimbatore, South India, Swami Swaroopananda has now been bestowed by Swami Tejomayananda the privilege to also serve as the Head of Chinmaya Mission Worldwide.
Born and brought up in the bustling commercial capital of India, Swamiji had always been convinced that beyond life's superficial, everyday joys and sorrows, there was something more enduring and satisfying. As a child he heard from his grandmother many religious stories based on the great Indian epics and the history of saints. These stories suddenly came to life, acquiring new meaning and depth, when as an adolescent he encountered the preeminent Master of Vedanta, Swami Chinmayananda.
His heart completely moved and inspired, in 1984 Swami Swaroopananda gave up his family's thriving business in Hong Kong to undergo intensive training under Swami Chinmayananda and Swami Tejomayananda at Sandeepany, Mumbai. He was initiated into the monastic order in 1992. Since then, he has touched thousands of lives across the world, and his tremendous work in bringing out the essential wisdom and underlying unity of all religions has garnered him a place among the vanguards of self-development philosophy.
Swamiji has authored several commentaries on such important spiritual classics as Ik Onkar, Maha Mrityunjaya Mantra and Sankat Mochan, besides numerous books on contemporary lifestyle subjects such as Simplicity and Meditation, Storm to Perform, Avatar, Managing the Manager and Journey into Health.
Swamiji is equally adept at conducting 'wholistic management' seminars for senior corporate executives. Among the well-known institutes he has been invited to speak at are The Ford, London Business School and Harvard University, to name a few. In fact, a proprietary self-development course he conceived and initially conducted, Make It Happen™, has been adapted and integrated into the human resource training programmes of various corporate organisations in India and beyond.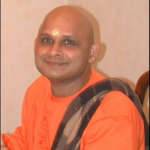 Swami Sharanananda
Swami Sharanananda hails from Puri in Orissa, India. Being inspired by Pujya Gurudev H.H. Swami Chinmayanandji, he joined the two year brahmachari training course in Sandeepany Sadhanalaya, Mumbai, India, in the year 1986. He was trained by H.H. Swami Tejomayanandaji. He was given Brahmachari Diksha in 1988 and became Br. Sharana Chaitanya. He has served Chinmaya Mission centers in Anugul, Rourkela and Calcutta. He has been the resident Acharya at Chinmaya Mission Chicago since March 1993.

On July 9, 1995 he was initiated into Sannyasa Diksha by H.H. Swami Tejomayanandaji and became Swami Sharanananda. He conducts yogasana and other scriptural classes during Chinmaya Mission family camps in America and Canada. Swamiji likes to be with children. He places great importance on value based living.
Respected Nirmita Dholakia
A senior co-founding member & Balvihar sevika of CM Badri since 1979. Nirmitaji has also been guiding our community in Indiana, as well as numerous Satellite centers of CM Chicago, for past 25 years .She has completed the 2 year Vedanta course in Trinidad under Pujya Swami Prakashanandaji. We are fortunate that she has graciously accepted our invitation as our Spiritual guide, to conduct Bhagavad Gita Classes and other Jnana Yajnas at CM Omkara.